This is a computer-based translation of the original text:
Today has been carried out in Harajuku KOMMON "RED one PRESS Art Exhibition" I went over to.
RED one PRESS is a close-up on the site derived from the street art culture, more than 50 artists Toka affiliation.
In this exhibition, if such is not the work of Innovation What we can see that artist. Nan awesome!
In today's opening party, everyone knows! Live Paint or something and there's also designed the jacket for SHOHEI TAKASAKI's DHARMA DANCE DJ BAKU. I live Yappari is uncanny force. The Really.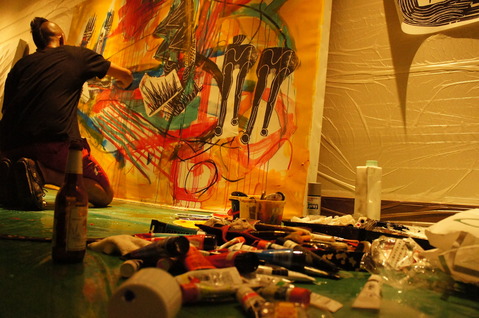 Many people ride to the venue of the piston and the skaters, it was intense smell the scent Street. Hey I Yappari Tokyo art and culture are closely connected.
Really cool to work with just Nde, speaking over Yokattara DECADE, please try to go a little KOMON with braces!
I have been somehow captured the imagination, in the Odyssey is today.
Art Exhibition - Overview PRINT SHOW VOL.3
August 13, 2011 (Saturday) - August 18 (Thu), 11:00 to 19:00
Location: Gallery COMMON (5 Jingumae, Shibuya-ku, Tokyo-11-1-2F)
On then!
---
このRED one PRESSは、ストリートから派生したアートカルチャーにクローズアップしたサイトで、所属するアーティストは50名以上とか。
今回のエキシビジョンでは、そのアーティストたちの作品がどばっと見れるってわけです。なーんてすばらしい!
今日のオープニングパーティでは、みなさんご存知!DJ BAKUさんのDHARMA DANCEのジャケをデザインしたSHOHEI TAKASAKIさんのライブペイントもあったりなんかして。やっぱりライブは迫力がすごいんです。ホントに。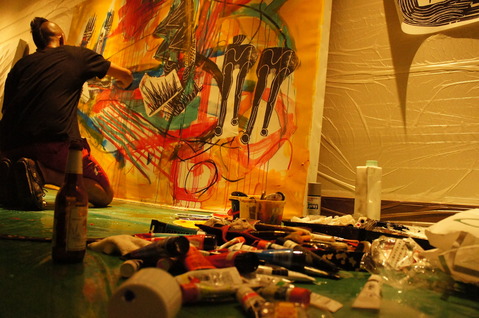 会場にはスケーターやピスト乗りの人も多く、ストリートな香りがぷんぷんでしたよ。やっぱりトーキョーはアートとカルチャーが密接に繋がってますねー。
ホントにかっこいい作品ばかりなんで、よかったらDECADEにいってー、ちょっとカッコつけてKOMONにいってみてください!
なんだか想像力を掻き立てられてきたので、今日から放浪の旅にです。
Art Exhibition – PRINT SHOW VOL.3概要
2011年8月13日(土) ~8月18日(木) 11:00 – 19:00
場所:Gallery COMMON(東京都渋谷区神宮前5-11-1-2F )
ではでは!