This is a computer-based translation of the original text:
My sponsor PunkDrunkers's movement from charity? !
http://www.punk-d.com/catalog/product_info.php?products_id=869
Punkdrunkers from the site below -
March 11, was hit by a giant earthquake in Japan.
And give all condolences to everyone affected by this disaster,
I would like to sincerely sympathy.
(Yes) and steak, we can do what I thought not.
So unique steak "PRAY FOR JAPAN T-shirt produced",
I decided to donate to the Red Cross disaster area and all of its benefits through.
立Tetara help me at all agree with your feelings with us.
You support your customers, thank you for your cooperation means.
★ donation amount to which the donation was officially announced at a later date and we will.
Fundraising target groups ■: ■ order acceptance period, such as Red Cross: March 31, 2011 (the period and we will be.)
Delivery date ■: ■ scheduled in late April return policy: once and you will not be submitted, regardless of the reason for return, can not be canceled.
The contents, however, confirm the amount of money and, you please apply on our careful consideration.
PRAY FOR JAPAN T-shirt (charity TEE)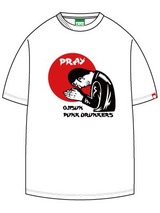 ---
http://www.punk-d.com/catalog/product_info.php?products_id=869
以下Punkdrunkers サイトより~
3月11日、日本が巨大地震に見舞われました。
この災害の影響を受けた全ての皆様に哀悼の意を捧げるとともに、
心よりお見舞いを申し上げます。
(有)ステーキでは、私達に出来ることは無いかと考えてみました。
そこでステーキならではの「PRAY FOR JAPAN Tシャツ」を制作し、
その利益のすべてを日本赤十字社などを通じて災害地に寄付する事にしました。
私達と賛同してくれる皆さんの気持ちが少しでも役に立てたら。
ご賛同いただけるお客様は、是非ご協力をお願いいたします。
★募金先と募金金額は後日正式発表させて頂きます。
■募金先団体:日本赤十字社など
■オーダー受付期間:2011年3月31日まで(期間は予定とさせて頂きます。)
■お届け日:4月下旬予定
■キャンセル・返品:不可
一度お申し込まれますと、その理由に関わらず返品、キャンセルができません。
内容、金額など十分ご確認の上、ご熟慮いただいた上でお申し込み下さい。
PRAY FOR JAPAN Tシャツ (チャリティーTEE)