Open Mic is a new feature on the blog, interviewing non-pro riders that inspire me with their passion for riding and progression. I'm very pleased to have the opportunity to interview Louis. Without further delay, Open Mic with Louis Orth:
Let's start with an introduction; name, age, years riding, and where/who you ride with:
My name is Louis Orth. I'm 21. I've been riding for nine years. I ride in a parking lot that Ross Smith used to ride in or this little concrete slab in my backyard when I am home from school. I ride in a parking lot five minutes from my house or in the basement when I am at school. I don't really ride with anyone. And if I do, it's with Sunny Singh or Brett Gill. Sometimes I ride with Brian Tunney or Erin Donato, but not as of late.
What first got you into riding?
There used to be a bike shop two minutes from my house called "Bike 'N Gear" that I would frequent because I was fascinated with bicycles from a young age. My father bought me a Dyno Air when I was in fourth grade. It had mags and only back pegs. I rode it a lot, but not flatland. Just jumping curbs and racing the neighborhood kids. At one point I was 12 and I was at a friends house and we were just riding around and I wanted to go to the bike shop and look at all the bikes that were much more expensive than mine. When we were crossing the street I saw this guy on the side street doing something I had never seen before on a bicycle. I immediately said to myself, "I want to try that." Couple of weeks later I bought a real wheel set and put front pegs on. It's been a disease I can't get rid of ever since.
Do you have a favorite color?
I don't generally have a favorite color. I'm partially color blind, so it's kind of difficult to have a favorite color. Although I do like brown for some odd reason. And yellow. Sometimes gray. But I hate red.
A lot of people it seems tend to take it easy during winter, but you seem to have pushed through and kept up with it. What's that been like? Do you find that your riding is different during winter, e.g. different tricks, different style?
It's been rough, I'll admit it. Sometimes I don't want to go out, but I can't stop it. Something feels off if I don't at least ride for 10 minutes. It's also very difficult to get people to come out and ride when it's 20 degrees with high winds. I don't see what the big deal is. I can't change the weather and I can't drive to California anytime I want. Another thing that is rough for me is when people come out to ride but only ride for like an hour or so. I can't do it, I need to ride for at least two hours or more. Maybe I'm heartless or can't feel pain, but I just need to ride. I think my riding is a little different during the winter. I mean for right now I have a tiny basement to ride in when I'm at school and a tiny concrete slab in my backyard since I am home for the winter break. So everything is in tight circles and very slow. But my riding is slow as it is. I don't know how to ride fast. I definitely try different types of tricks, like crossing my arms or crossing my feet, or both. I don't need a huge space to do something like that. I like riding in those small environments, my brain gets confused because I'm not riding in a huge area so I have to improvise what I want to do. It's definitely humbling when you pull something in a small area when you know it's 10 times easier in a huge lot.
Because our winter's here are very mild, I'm curious; is there anything special you do to keep from simply freezing in low temps?
I don't really do anything special. I wear a pair of regular socks with a pair of wool socks over them, thermal pants, jeans, a t-shirt, a thermal shirt, a sweatshirt (non-hooded), jacket, light gloves, and a beanie. My jacket and gloves come off within 25 minutes of my session. Sometimes I come back drenched in sweat and other times I come back dry as the ground. It's weird.
This is a question I love to ask people: Why do you ride?
There are many different reasons I could give you why I ride. Mostly everyone's response is because it's fun or it gets them away from reality, or whatever generic response they can come up with. I don't have a legitimate reason as to why I ride. I'm of German descent and Germans are known for their hard work ethic. I've been told I work very hard with everything I do, whether it's work or tying my shoes. I really like flatland because it baffles me. I don't understand how I can think of a trick one day and why I couldn't think of it the day before. It's such a mind-altering sense of feeling to me. I just like figuring things out on my own. It's very humbling knowing that I pulled a trick on my own and that I figured out a technique to pull it. The hard work is the reason I ride. I can't half-ass a trick and expect it just to happen. Sure, some tricks come easier than others, but just like everything else in life, if you half-ass most things, you're not going to get anywhere. It's a lot like chess to me. If you make a certain move you can lose the game. If you make a certain move you can win the game. It all depends on how much I want to put into a trick. But, the lack of knowledge about a trick and the hard work, that's what drives me.
Riders have a lot of different motivations and inspirations. What are yours?
I don't know where my motivation comes from. I really don't. I could go days, weeks without seeing anyone who rides and still be psyched to ride all day. My inspiration comes from people who work hard and do their own things. I used to play ice hockey as a goalie and my favorite goalie was Mike Richter. The man worked very hard to be where he was in the NHL. I could watch an old video of him playing hockey and I'll be pumped to ride. I like surfing and body boarding. The amount of time and punishment they take from the water is very inspiring to me. Trick wise though, Brian Tunney, Jody Temple, Rodney Morweiser, Ross Smith, and Aaron Behnke inspire me.
Do you have a favorite video or video part?
That is very hard to answer. I do like a lot of older videos. One of my all-times favorites though would have to be Doses. If you don't know, you'll never know. I enjoy Dane Beardsley's videos a lot. My favorite video part would have to be Ross Smith's in Blend. Every time I see it, I just get so amped.
Where do you see your style taking you, riding wise?
I don't know. Honestly. I don't even know what kind of style I have. I know I ride really slow and do really weird and stupid tricks most of the time. I just like trying to figure out how to get into and out of tricks. Or combining tricks that shouldn't be combined. I can't see it taking me very far though, I am horrible.
Top 3 dream travel destinations?
1. Germany. I'm of German descent and I've just always wanted to go there and I would love to ride there as well.
2. Texas. It seems very rider-friendly down there and plus it's warm.
3. Japan. This is an on-going joke between my friends and I. But I really want to go there. Maybe if I eat their food or drink their water I can become an okay flatlander.
Favorite band?
The Acacia Strain, hands down. But I can't ride to them. I ride to instrumental music, like Explosions In The Sky. I hate techno and dub step. Too many noises for my ears.
What's your bike setup like? Do you have parts that you never want to change?
My bike setup is nothing like what is normal these days. My bike is pretty much just setup how I want it to be setup. I don't care about trends or what pro is riding what and what company put out this frame. It's a bike. But I run front AND back brakes. I run Love Goat pegs. I have custom bars. My bike is heavy compared to other bikes nowadays. It builds character and muscle. I think it weighs like 28 or 29lbs. I don't care though. My seat is low. It's setup like a BMX bike, not a dinky flatland bike. I love my cranks, Odyssey Black Widows. I would never get rid of them. I like them too much. And I really really like my bars, but they are slightly bent, but I don't care. Also, I haven't changed tires in like two years. I always ride the Animal ASM tires. Also the Animal grips rule.
Because this is January I'll ask this, have you set any goals for the year?
No, I don't have any goals for this year. I never put out any goals for myself. It's better that way. Because what if you mess up and you never get there? It's always in the back of your mind and it would make me go crazy. I have ideals of what I would like to get done when I go out to ride, but most of the time, I just do whatever comes at me. If I accidently figure something out from trying something else, then that is awesome and keeps me stoked. Chase said it best, "You can't set a goal. Because what if you get there?" I've always got tricks on my mind. I'm always thinking about trying something or doing something. It never stops. It's constant progression in my mind and without progression there is no need to ride my bike anymore. That's when I'll stop riding.
Are there any tricks that scare you?
Death trucks. I've been wanting to try them ever since I've seen them. It just looks ridiculous and I can't figure it out. I've never really tried them, but one these days. I don't need my nuts anyway, I'm never going to have kids.
Do you have a "dream link/trick"?
Probably half-packers. I've been saying that I'm going to learn them every time I go out to ride. But I just can't figure it out and I've never really put that much effort into trying them. It's a very frustrating trick. And I'm not trying to learn it because every one and their grandma can do it. It's just a trick I know I can figure out weird and different ways of getting into or out of. A dream link would be able to pull anything Kevin Jones does. I'm not even kidding. He still rules.
If you had to tell a non-rider what flatland was or was about, what would you say?
It's a lot like anything else. You put time in and you get results. It's like you're a scientist trying to come up for the cure of cancer, except you're trying to learn a trick. It's hard to explain. I usually just tell people it's a form of BMX that consist of tricks where the rider usually has one wheel on the ground and is trying to balance with the rest of his body. It's fun, you should try it.
Louis, thanks so much for taking the time with this interview. You're one of the guys that's kept me motivated from across the country with your passion for riding. Any final words or "shout-outs"?
I would like to thank you Jim for even thinking that I deserve an interview, I for one think opposite. I have a long list of thanks, get ready. Thanks to my parents for putting up with me and all the hours I've spent in a parking lot far from home. Thanks to my brothers for pushing me with everything I do, even though they are really annoying sometimes. Thanks to Rodney Morweiser for getting me into flatland and for being my mentor for nine years now and of course for always fixing my bike and hooking me up when I need it. Thanks to Mike Wilson for just being awesome at flatland and giving me stickers when I was a young kid on Runyon Ave, it meant a lot. Thanks to Grove Street Bicycles for letting me be on the team and always supporting me with whatever I need and letting me work there too. Thanks to Matt Crystal for being my best friend and always down to help me figure out tricks and being my trainer. Thanks to Sunny Singh for being my friend and always pushing me to pull tricks even when I know I should stop riding for the day and giving me props even when I don't deserve them, I still hate you by the way. Thanks to Mark Kenny for being my friend and supporting my decisions with every day life and giving me the opportunity to be a subject of his film class. Thanks to Rick Danielsen, Dean Watson, Eric Marion, and the rest of the Efinger's dudes for letting me ride with you guys and accepting that I ride BMX, not just flatland. Thanks to Mike Kuhn and the rest of the Grove Street BMX team. Thanks to Gary Mendez for being a good friend and letting me remember who I am. Thanks to Garret Hoogerhyde for being a good dude and fixing my bike when needed. Thanks to Erin Donato for giving me my first free frame and various other parts throughout the years, I forever owe you. Thanks to Chad Catalano for making my bars and being a good dude. Thanks to Rosie Taylor for being the smoothest rider ever. Thanks to Dave Debuono for just being awesome at everything. Thanks to Mark Harris for staying underground. Thanks to Brian Tunney for being an awesome dude and being awesome on bikes and for the advice and all of the bike parts you've given to me. Thanks to Brett Middaugh for giving me a shot at writing on www.bmxnj.com. Thanks to Steve Lapsley for letting me a part of the Am Flat Circuit. Thanks to Frank Macchio for the decade progression. Thanks to Adam Guild for making Doses and inspiring me. Thanks to Brett Gill for being anti-global-flat and hating the world with me when we ride. Thanks to Wawa Peach Iced Tea, butterscotch crumpets, yellow Gatorade, water, apples, apple juice, carrots, food, parking lots, and to music. I'm sure I forgot a lot of people, but you know who you are and I wouldn't be here today without any of you. My final words are: Shut your mouth and ride your bike.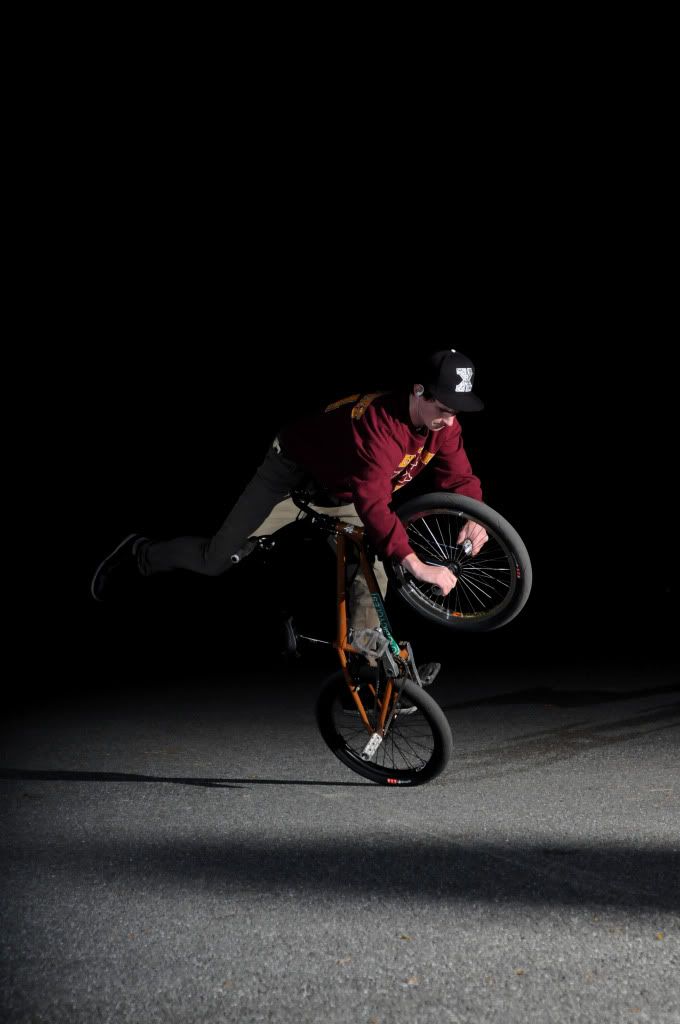 photos by Jon Stettler