This is a computer-based translation of the original text: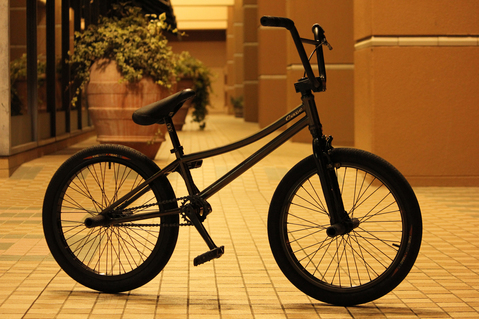 FRAME: REMIND RUMBLE 18.8
FORK: ARES GARUDA Fork
BAR: MX 80s'-V2 Bar
STEM: WeThePeople Supreme Stem
HEAD SET: ARESTIC CMA Internal Headset
HEAD SPACER: UNKNOWN
CRANK: ARES ILLBREND 160mm
BB SET: 059BRAND MC-SPANISH-BB
SPROCKET: PRIMO / ANALOGLIGHTSPROCKET23T
PEDAL: WELGO
CHAIN: UNKNOWN
SEAT: PRIMO / BALANCE PIVOTAL SEAT
POST: MACNEIL / 330 SEATPOST
CLAMP: We The People / SUPREME SEATCLAMPS
F PEG: 059BRAND PR-PEG
R PEG: 059BRAND FR-PEG
F HUB: PROPER 36H
R HUB: ARES / Boo HUB 48H
F RIM Odyssey 7KA (black) 36h
R RIM: Odyssey 7KA (black) 48h
F TIRE: KHE MAC1.5
R TIRE: KHE MAC1.5
FR TUBE: UNKOWN
VALVE CAP: Nothing
F BRAKE: Hombre AD996
R BRAKE: Nothing
SHOE: TIOGA TRAIAL SHOE
F LEVER: ODYSSEY_MONO Lever
R LEVER: Nothing
GYRO: Nothing
GRIP: We the People SlapShot
BAR END: ODYSSEY ParEnd
GRIP STOP: Hommage GripStop
The check might be the first proper bike.
Silent bike stuck part, what portion of the ground floor to feel the bike as well Kind Purapatsu use.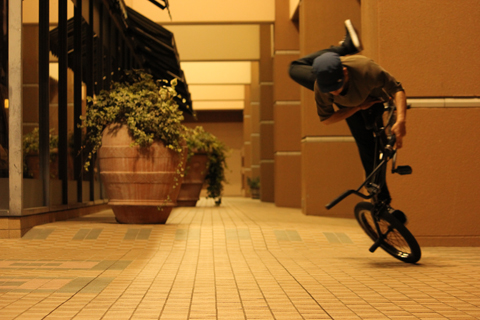 Shoot me
tera
Thanks! !
---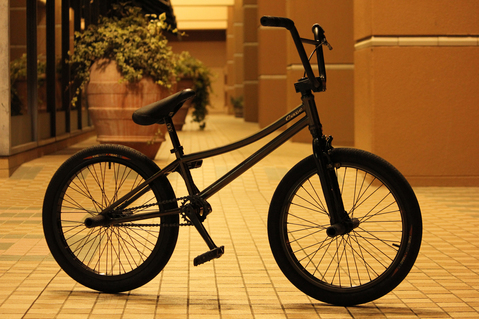 FRAME:REMIND RUMBLE 18.8
FORK:ARES GARUDA Fork
BAR:MX 80s'-V2 Bar
STEM:WeThePeople Supreme Stem
HEAD SET: ARESTIC CMA Internal Headset
HEAD SPACER: UNKNOWN
CRANK:ARES ILLBREND 160mm
BB SET:059BRAND MC-SPANISH-BB
SPROCKET:PRIMO / ANALOGLIGHTSPROCKET23T
PEDAL:WELGO
CHAIN:UNKNOWN
SEAT:PRIMO / BALANCE PIVOTAL SEAT
POST:MACNEIL / 330 SEATPOST
CLAMP:We The People / SUPREME SEATCLAMPS
F PEG:059BRAND P-R-PEG
R PEG:059BRAND F-R-PEG
F HUB:PROPER 36H
R HUB:ARES / Boo HUB 48H
F RIM Odyssey 7KA(black)36h
R RIM:Odyssey 7KA(black)48h
F TIRE: KHE MAC1.5
R TIRE: KHE MAC1.5
FR TUBE:UNKOWN
VALVE CAP:Nothing
F BRAKE: Hombre AD996
R BRAKE:Nothing
SHOE:TIOGA TRAIAL SHOE
F LEVER:ODYSSEY_MONO Lever
R LEVER:Nothing
GYRO:Nothing
GRIP:We the People SlapShot
BAR END:ODYSSEY ParEnd
GRIP STOP: Hommage GripStop
ちゃんとバイクチェックしたのは初めてかも知れない。
こだわっている部分
音のしない自転車、接地する部分はプラパーツを使い自転車にもフロアにも優しくって感じでしょうか。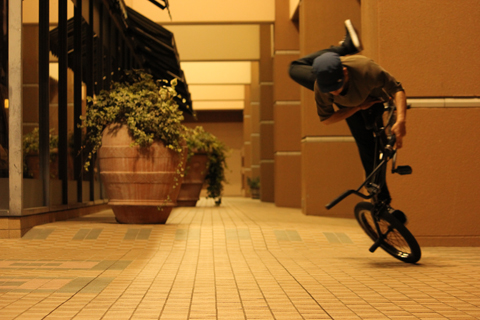 撮影してくれた
テラ
ありがとう!!