This is a computer-based translation of the original text:
20 to Oct. 19
7 Day Trip 6 ・
19 did not work.
I'm a lot of minutes and let me rest, Cleaned up an energetic work has piled up 19 days before holidays.
And the next day, they got a break because it was in the back of the Collie Sun, Cleaned up some for an energetic day.
The work of Kasahara's too long for a vacation or break it before, go to the company seems to have been cleaned off during the night.
Take me out to explore the 19th and Greg's collie under Kasahara, it seems that going to the aquarium and the decade of Akihabara and Shibuya.
Although it is quite exhausted Collie say things to ride at night, things suddenly take on Kasahara's spot.
After a nap and went to great pains last chance Nde myself.
And arrival.
This famous three-minute combo video and original Gurataku Kasahara's (?) Location.
Takuya + + were collected during the day face me.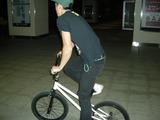 Everyone got fired up to put a tired body.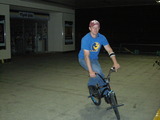 The bad guys are moving Naka Naka ...
Everybody is expected to travel & KOG & I was tired a lot buildup.
I decided to take a souvenir video.
The video's I was brought Kasahara, no tripod.
The original was brought there instead of a tripod PS3!!
Height of the foundation and it just good (laughs)
In other words ...
"Pre's foundation"
It (laughs)
It's sure to raise the tone in a safe way will be too little and everyone 乗Ridasu attack like that.
Gregg, Takuya, his friends decide Kasahara decided that the original Corry!
Corey also make even the remaining 10 minutes off the original battery time!
Making doubly sure to make the transfer myself and the rest two minutes!
I felt it.
The attack was an attack technique to determine the intention of people actually end, it is not good enough Shigeru Susumu.
But the jam was really fun.
Was great.
The product spoke for itself.
So, Kasahara's videos, so check the UP ☆

Finally, Cory and presented to us with his 430 caps in a decade have gotten from Ms. Uehara yuan for this session. Thank you!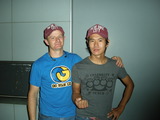 (A small faces are collie)

Write today's date and sign all the caps, a collie gift.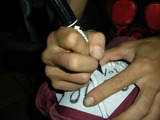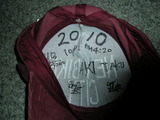 Taking a group photo finish!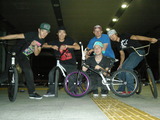 動Keta better than I expected from riding after a long night.


Continued Part7


---
Trip 6・7日目
19日は仕事でした。
沢山休ませて頂いてる分、溜まっている仕事は 休み前と 19日に気合いで片付けました。
そして翌日も、コリーの帰る日で休みを貰っていいたので、翌日の分も気合いで片付けました。
笠原さんも長期休暇の間の仕事を、休み前にやったり、休み期間中の夜に会社に行き 片付けていたようです。
19日は 笠原さんと元で コリーとグレッグを 観光に連れ出し、水族館や秋葉原や渋谷のディケイドに行ったりしたようです。
かなりグロッキーなはずなのに コリーは夜乗りたいと言う事で、急遽 笠原さんのスポットで乗る事に。
せっかくのラストチャンスなんで自分も仮眠してから行きました。
そして到着。
ここは 笠原さんの動画や 元のグラタク3分コンボで 有名な(?)場所です。
昼間のメンツ+タクヤ+自分が集まりました。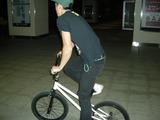 疲れた体に気合いを入れてみんなで乗りました。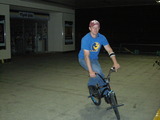 が,なかなかみんな動きが悪い…
さすがの皆ですが 旅&KOG&色々で 疲れが溜まってました。
記念に動画を撮る事にしました。
笠原さんがビデオを持ってきてましたが、三脚が無い。
そこで三脚の代わりになったのが 元が持ってきたPS3!!
これを土台にすると 丁度良い高さに(笑)
つまり…
"土台プレさん"
だ(笑)
そんな感じで乗りだすも みんな攻め過ぎで調子が上がらず 少し無難なのから上げてく事に。
グレッグ、タクヤ、自分、笠原さんは決めたが 元とコリーが決めない!!
バッテリー残り10分切った頃に 元もコリーもメイク!!
そして残り2分で 自分がダメ押しに トランスファをメイク!!
という感じでした。
本当はみんな最後に攻め攻めな技を決めるつもりで いましたが、それはイマイチ達成ならず。
だけど 本当に楽しいジャムセッションができた。
最高だった。
百聞は一見にしかず。
というわけで、笠原さんが動画をUPしたのでチェック☆

最後に、元がこのセッションの為に ディケイドで上原さんから頂いてきた 430のキャップを 自分とコリーに贈呈してくれました。ありがとうございます!!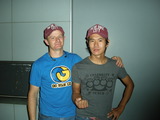 (コリー顔小っさ)

そのキャップにみんなのサインと今日の日時を書いて、コリーにプレゼント。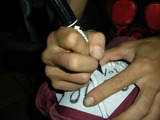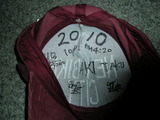 集合写真を撮影して終了!!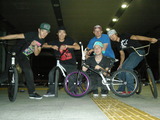 久しぶりに夜間乗ったが 思ったより動けたから良かった。


Part7へ続く