This is a computer-based translation of the original text:
Sun Day 16 KOG1
Iyo Iyo KOG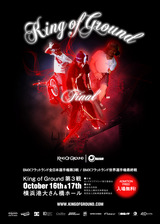 16th Girls & Kids was held and Nobisukurasu.
Yokohama Osanbashi this site.
The venue looks like ~ (
Jimalog
borrowed from)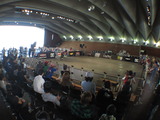 Outside the venue is like this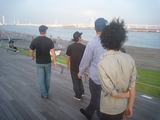 Garuzukizzu was going to have go to help support you because it was Aoi Matsudo, they jammed too late ...
Nobisukurasu started arriving a little after.
The density of the Department of Matsudo in second place novice!
Taro took a dark skin more, but my thought was a good run ...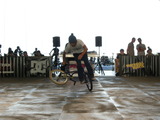 Unfortunately, the final 行Kezu ...
Later, it was promised that the sentence of execution while out on the food they eat my skin was supposed to be like 40% battery clippers out.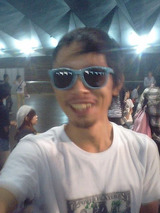 This was the final or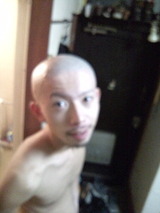 Novice finals Porinitsu you and Jana rode together in Matsudo the other day, you would remain a family Isao Cross technique.
Expert awards ceremony and after the award ceremony and free time to time there is a light freeride 乗Remashita professional.
Did a pretty incredible ass to face - gathering
I was out of the aura - Dipuchimu
Take the exit level test interval somehow.
But I always think, how to practice courts and sub-recent tournament I have become a form of technical support to ensure the epidemic.
The main court at this time there is a jam was riding the quad ride Naka Naka ...
It had also become a jam or two courts are also sub-divided ...
For me the practice time I make it so only divides but not much about you can not use your body relax.
I think this could work to 割Ri切Tsu kit Chile in particular.
Gradually become accustomed to now (laughs)
Garuzukizzukurasu in the third place you Aoi ☆
Happy ☆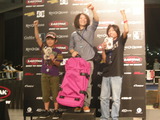 On this day, the next day with his wife goodbye and KOG crew went back to his home to go to temporary Kasahara.
Continued part4
---
いよいよKOG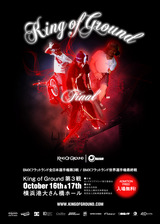 16日は ガールズ&キッズクラス と ノービスクラス が開催されました。
今回の会場は横浜大さん橋。
会場内はこんな感じ~(
JIMALOG
より拝借)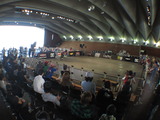 会場外はこんな感じ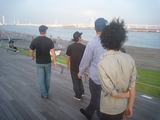 ガールズキッズには 松戸の葵君がエントリーしていたので 応援するつもりでしたが、渋滞していて間に合わず…
着いて少ししたらノービスクラスが始まりました。
ノービスの2番手に 松戸の濃太郎が!!
スキンのかかった濃太郎、 おれが思ったよりは良いランをしていましたが…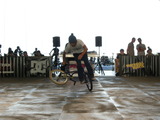 残念ながら決勝には行けず…
その後、自分らが飯を食いに外に出ている間に約束通り刑が執行されたようでしたが、バリカンがバッテリー切れで 4割スキンみたいな感じになっていました。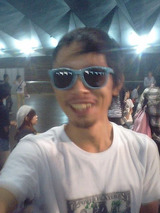 最終的にこうなったとか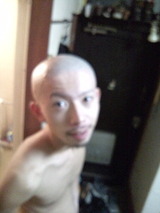 ノービス決勝には 先日松戸で一緒に乗った ポリニツのヤナ君や、 跨技家族のイサオ君も残っていました。
表彰式までの空き時間と 表彰式後に エキスパート&プロ のフリーライド時間があって 軽く乗れました。
かなり凄いメンツが集まってて ヤバかったな~
ディープチームはオーラ出てました~
なんとなく間隔を試す程度に乗り終了。
いつも思うが、最近の大会のサブコートや 練習の仕方は 確実に 流行の技に対応した形になっているなぁ。
今回はメインコートでは4分割ジャムで乗っていましたが あれでは なかなか乗れません…
サブコートも2分割ジャムになったりもしてたし…
自分にとって練習時間は 体をほぐす程度にしか使えないので あまり気にせず 割り切るようにしてます。
今回は特にキッチリ割り切って練習できたと思う。
今更になってだんだん慣れてきた(笑)
ガールズキッズクラスでは 葵君が3位に入賞☆
おめでとう☆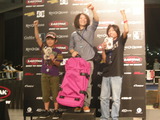 この日は、翌日妻と一緒にKOGに行くために 一時的に笠原クルーと別れ自宅に帰りました。
part4へ続く