This is a computer-based translation of the original text:
Posts will be a long time.
Last weekend I went to KOG, KOG this many overseas riders to come, KOG think it was very pleasant. The rider who fought overseas since 2002 or so, maybe not
Cory Fester also in love myself that I was excited by the visit.
In pre ~ KOG KOG write the story until a few days later.
October 14
Collie was visiting from Canada and 13 days, Greg was visiting from America some time ago (Gregory Leuschner) Matsudo went on Kasahara's thing to bring.
Matsudo to arrive about noon, riding deep Taro.
Taro is a locally concentrated "KOG not go to shave one's head in the final," was also included a promise because he was fired.
And that three men came riding Takuya also has to do with Greg took a while for Kasahara's Collie.
Collies and Canada since the reunion in March.
In the morning return from Canada, "Come on in Japan, I'll be waiting!" I broke up, saying, came the promise kept (but will not visit because of it)
Both Greg
Canada
since the reunion.
Immediately after greeting Raidokomyunikeshon little.
Cory Yabaiyabai.
Everyone was surprised by the attack they do attack skills, tricks and things I asked for the tournament.
- No trouble.
Nakajima also came after a while.
Everyone has done a Rutinjamu KOG, and the high rate of Takuya Nakashima's makeup, too high.
Commemorative photograph had been getting a good time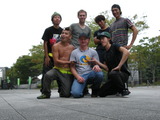 Overseas riders came Matsudo Speaking of what the first time.
And instead decide greetings Daburudikedo Aoi-kun came after this, the collie was truly surprised.
After his riding with our friends to join Kasahara Saitama.
Ate a parfait for dessert Bikkuridonki eating.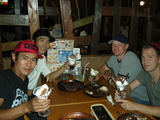 And obviously he slept and then watched a video with Kasahara's house arrived.
Of the day No, video is one of the Timm Knoll!
Continued part2
---
先週末はKOGに行ってきました、今回のKOGは多くの海外ライダーが来日し、とても良い感じのKOGだったと思います。あんなに海外ライダーが参戦したのは2002以来とかじゃないかな
自分的にも大好きなCory Festerが来日するという事でわくわくしていました。
ではKOG前~KOG後までの数日間の話を書きます。
10月14日
13日にカナダから来日したコリーと、少し前にアメリカから来日していたグレッグ(Gregory Leuschner)を笠原さんが連れてくるという事で松戸に行きました。
昼くらいに松戸に到着し、濃太郎とライディング。
 濃太郎はローカルで"KOGで決勝に行けなかったらスキンヘッドにする"という約束をしていたので気合が入っていました。
タクヤも来て3人でライディングしていると、しばらくして笠原さんがコリーとグレッグを連れてやってきました。
コリーとは3月のカナダ以来の再会。
カナダから帰る朝に「日本で待ってるから来いよ!!」と言って別れたのですが、約束を守って来てくれました(それが来日の理由ではないだろうが)
グレッグとも
カナダ
以来の再会。
少し挨拶をしたら即ライドコミュニケーション。
コリーはヤバイヤバイ。
攻め攻めの技をやっていて皆で驚いていたが、聞いてみると大会用トリックとの事。
いや~ ヤバイ。
しばらくして中島さんもやってきました。
みんなでKOGルーティンジャムをやりましたが、タクヤと中島さんのメイク率が高い、高すぎました。
良い時間になってきたので記念撮影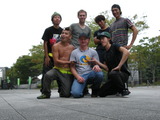 そういえば松戸に海外ライダーが来たのは今回が初かな。
このあとで葵くんが登場
挨拶代わりにダブルディケードを決めると、さすがのコリーもビックリしていました。
ライディング終了後に自分は笠原さん達と合流して埼玉へ。
ビックリドンキーを食べてデザートにパフェを食いました。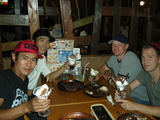 笠原さん宅に到着し動画を見てワイワイしてから寝ました。
この日のNo,1動画はTimm Knollだな!
part2へ続く