This is a computer-based translation of the original text:
Good evening.
The nao.
I went to a nice day.
I know we had to go first time coming, too.
BAR & Restaurant "
GrassRoots
"
Hama is a child that you know how many? !
So near Yokohama station,
Live, I have a painting of a lovely place.
Immediately from the entrance steps
Doragon76
&
Novol
works welcome.
It happened during the exhibition in NOVOL store was full of work!
Punch line and delicacy of expression of the person is a masterpiece.
I work around and staring ー Kyorokyoro during dinner w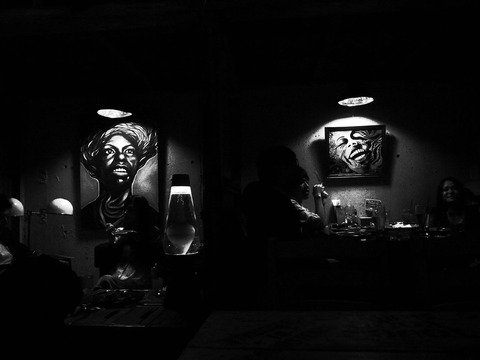 Black and white picture is a dare, because it seems the exhibition continues until July,
Please check the author's real because it means the color is really nice!
"GrassRoots"
BusinessHour: 17:00 ~ 26:00 EveryDay
Capacity: 40 Seats
Address:
2-13-3 Tsuruya-cho, Kanagawa-ku, Yokohama
Watanabe Bldg B1F
Tel :045-312-0180
---
naoです。
先日素敵なところに行ってきました。
僕も前々から存じていましたが今回始めて行きました。
BAR&Restaurant「
GrassRoots
」
濱っ子はご存知な方も多いのでは?!
横浜駅からほど近くの、
ライブ、ペインティングありの素敵な場所なんです。
早速入り口の階段から
Doragon76
&
NOVOL
の作品がお出迎え。
偶然にもNOVOLの展示期間中で店内は作品でいっぱいでした!
人物の表情の迫力とラインの繊細さは圧巻です。
食事中もキョロキョロと周りの作品見入ってしまいましたーw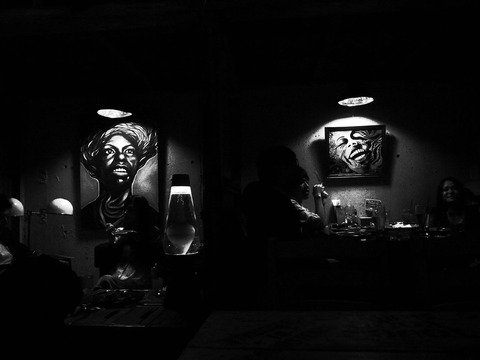 あえて写真はモノクロですが、展示は7月まで続くそうなので、
色彩が本当に素敵な作家さんなので是非本物をチェックして下さい!
「GrassRoots」
BusinessHour:17:00~26:00 EveryDay
Capacity:40 Seats
Address:
横浜市神奈川区鶴屋町2-13-3
渡辺ビルB1F
Tel:045-312-0180