This is a computer-based translation of the original text:
Has become a sponsor at the Yokohama always taken care of BMX Shop
"
CAVE
"
In the April 06 anniversary open4 ☆
And 9th anniversary party was held.
About six months before opening his own store in Yokohama, so I Itadai CAVE support will be about four-year relationship.
Well time goes by fast I wonder
And now the first party, CAVE studded team rider! !
Even once did not realize until now is much less likely as the planet w series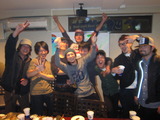 Left
Fukuda's owner
Yousuke Nakamura Tadashi Yoshida Hisao Sakuma 啓二 Takahashi Akihiko Kudo Gotou Zyun Shibuya Yousuke Nagata Syuuiti Yokohama store manager
Hmm what merrily, we do not face quite a variety! !
I strongly CAVE
CAVE like that will continue to thank you! !
---
"
CAVE
"
が4月6日でopen4周年を迎えました☆
そして9日には記念パーティが行われました。
自分は横浜店がオープンする半年程前からCAVEにはサポートしていただいてたので、4年半ほどの付き合いになります。
いやぁ時間が経つのは早いなぁ
そして、今パーティで 初、CAVEチームライダーが勢ぞろい!!
今まで1度も実現しませんでした、惑星直列と同じくらい可能性が低いですw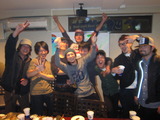 左から
オーナーの福田さん、
長田 修一
渋谷 陽介
横浜店 店長工藤さん
高橋 明彦
後藤 潤平
吉田 尚生
佐久間 洋介
中村 啓二
ううむ なにげに、かなりバラエティに富んだ面々ではないか!!
CAVE強いなぁ
そんな感じで今後もCAVEを宜しくお願いします!!