This is a computer-based translation of the original text:
At Matsudo Forest Hall on Sunday 21 July 04 "Jam bonito"
Will be held.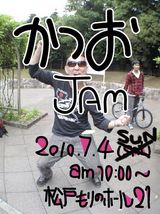 Better understand the details ...
From around 10 am Raidingusutato ①.
Go to the park eat the bonito in the same site at about 14 ②.
Shimo Makoto Shimo Yoshi riding feeling again When I continue to take the evening ③.
Case in point, Sunday assembled at 10 am at Matsudo!
Notes ※!!
When an underground passage from the direction toward the parking lot area to ride BMX, so please walk with now banned.
It seems to prohibit the use of elevators.
Later, when the park was going to BMX park BMX has put so please bring your own key to stop.
---
が開催されます。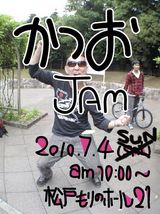 詳しくは良くわかりませんが…
①朝10時頃からライディングスタート。
②14時頃に 同敷地内にある公園に移動し カツオを喰らう。
③夕方になってきたら 飲み続けるも良し 再び乗るも良しな感じ。
というわけで 日曜日は朝10時に 松戸に集合せよ!!
※注意点!!
駐車場方面から ライディングできるエリアに向かう際の 地下通路は BMX乗り入れ禁止になったので 持って歩いて下さい。
エレベーターの使用も禁止だそうです。
あと、公園内にはBMXは持って入れないので 公園に行く際にBMXを停める鍵を各自持ってきて下さい。