This is a computer-based translation of the original text:
I been a while. The Koo.
Last night, CAVE was the fourth anniversary of Purley.
Mainly in Tokyo, Kanagawa, Chiba, many people with great excitement in Gunma! It was kind of emotion heavy drinking.
This time, it is not exactly the picture, please ask more from people who were involved.
Afterwards, hang out Masaki house! The aura that pervaded the house was a much happier person called Na I want to live like that - two. Masaki's, bruises Hey!
The next Sunday is going to "Toyosu" our.
Added Shibuya, Masaki's, Honey's, Pei-jun-kun was troubled with something from the previous day.
While the world care about the result of the war has been made in the United States drive.
Arrived as it were, everyone ー Mattari practice.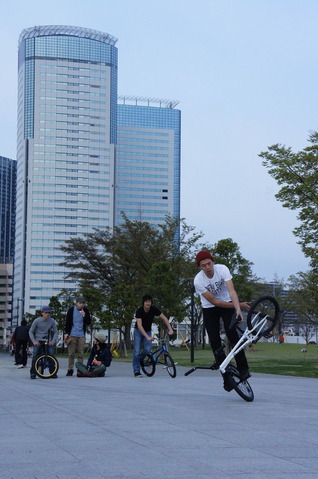 Zima's go out trick is to utilize the length of the limb when it fails,
"Feet, I gah-length, you idiot!" Was the remark.
Those words, from at least once, I want to say.
Some of the Nde I Bakkari bike, shopping at LaLaport.
Jun-kun to pay a birthday today that it presents a really bad drink called? A disappointment, I drank a good.
Ride until sunset today, ー was a fun weekend.
Co.
---
昨日の夜は、CAVEの4周年パーリーでした。
神奈川を中心に東京、千葉、群馬とたくさんの人たちで大盛り上がり!なんだか喜怒哀楽の激しい飲みでしたね。
今回、まったく写真はないので、詳しくは参加してた人から聞いてみてください。
その後は、マサキ邸にお邪魔!あんな二人暮らししてみたいなーっていうくらい幸せオーラがぷんぷんなお家でした~。まさきさん、あざっす!
翌、日曜日に向かうは「豊洲」でございます。
しぶやさん、まさきさん、ハニーさん、前日からなにかと騒がせていたジュンペイくん。
アメリカで行われている世界戦の結果を気にしながら、ドライブ
。
到着してみれば、みなさんまったり練習ー。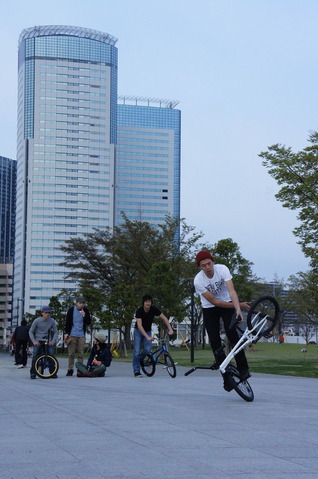 手足の長さを活かしたトリックを繰り出すジマさんは
失敗したときに、
「足、長げーんだ、バカヤロー!」的な発言をしていました。
そんな言葉、一度でいいから、言ってみたいです。
チャリばっかりってのもあれなんで、ららぽーとで買い物。
今日が誕生日だというジュンペイくんに、めっちゃまずいっていうドリンクをプレゼント!期待はずれに、おいしそうに飲んでました。
今日も日が暮れるまで乗って、楽しい週末でしたー。
Co.