This is a computer-based translation of the original text:
I work hard in earnest in 2003 and experts.
The first race third in the qualifying pass suddenly!
In the finals, I have become the second 出Shi切Renakatta!
It was a surprise -
I think that style is evaluated.
Even at this podium
1st Suzuki Takao
Takahashi Akihiko 2nd
3rd Huzii Hiromiti
And the podium was dominated by stress Chiba!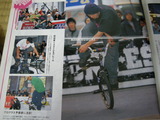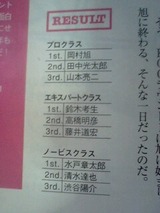 You could be promoted to the Pro class this year your best!
A month later I wanted to work hard so I have been injured left hand between the iron press machine at work.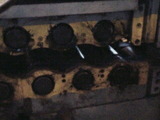 This injury has become the biggest hurt in my life.
Muscle weakness and ended up in the muscle tissue of meat to spend on it by the pressure of the hand.
After surgery, I was feeling down about not even been touched up as a move to move.
From superficial wounds healed will start rehabilitation, rehabilitation teachers, but also their BMX BMX that I'm doing things over time through a fine rehabilitation and wanted to ride a talk was.
Grip strength was 20kg but I also left the movement after-effects of thumb is now down to about to ride BMX.
The injury was in May that year - did not ride BMX.
You are feeling hurt, and made an event or local, I can also see the video, the ride very much regretted.
BMX industrial accident while resting in a job I can and it did not have time to catch is.
Two weeks after the injury is confined to move was out of shape and become negative, so the pain and do nothing, PC, or playing Solitaire at the time with one hand and making a plastic model潰Shimashita to.
In hindsight, I think that I should study English in the kiss.
Until that time I ride by and about the importance of this injury is granted Temashita think if you want to ride ride at any time.
This is now my morning practice was a weekend rider before.
KOG 2004 back to the next.
I feel that since this was certainly against 2008.
I think a very good result was not wandering around in 20th place.
The sources had become all that I had in the past few years will Freedom BMX.
I know a lot of people this far.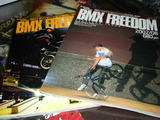 Continue.
---
開幕戦では いきなり予選を3位で通過!!
決勝では 出し切れなかったが 2位になってしまいました!!
これはビックリだったな~
スタイルが評価されたんだと思う。
さらに この時の表彰台は
1位 鈴木孝生
2位 高橋明彦
3位 藤井道宏
と,千葉勢で表彰台独占でした!!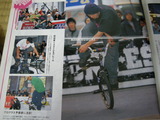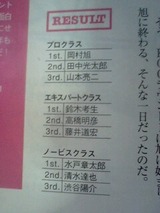 この年頑張れば プロクラスに昇格できるかもしれない!!
そう思い頑張ろうと思った1ヶ月後に,仕事中 鉄をプレスする機械に左手を挟まれて 怪我をしてしまいました。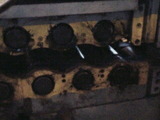 この怪我は自分の人生で最大の怪我になりました。
圧迫された事により 手の肉が割け 筋肉組織が出てしまい 筋力が低下。
手術後は,動かそうとしても動かないし触られても わからないくらいまで 感覚が落ちていました。
表面的な傷が治ってからは リハビリを開始し、リハビリの先生には 自分がBMXという物をやっているので またBMXに乗れるようにしたいと 話をして 結構な時間をかけてリハビリに通いました。
握力は20kgくらいまで落ちて親指の動きにも後遺症が残ってしまいましたが BMXには乗れるようになりました。
怪我したのは5月で その年はBMXには乗れませんでした。
怪我している感,大会やローカルに顔を出したり,ビデオも見てたりしましたが,乗れない自分がとても悔しかったです。
BMXに乗れないし 仕事も出来ないので 労災で休んでいる間は 暇でしょうがなかったです。
怪我して2週間程は痛みと体調不良で寝たきりでしたが 動けるようになってからは 何もしないとネガティブになってしまうので,PCでソリティアをやったり,片手でプラモデルを作ったりして 時間を潰しました。
今思えば,英語の勉強でもしてれば良かったなと思う。
それまでは乗ろうと思えばいつでも 乗れるのが当たり前だと思ってましたが この怪我によって 乗れる時間を大切にしようと思いました。
これによって,それまで週末ライダーだった自分が朝練をするようになりました。
翌2004年から KOGに復帰。
確かこの年から年3戦になった気がします。
あまり良い結果はでせず 20位前後をうろうろしていたと思います。
そういえばこの数年間で 皆の情報源となっていたのは BMXフリーダムでしょう。
ここまでくると知っている人も多いはず。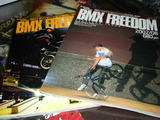 続く。