This is a computer-based translation of the original text:
Part 2 begins with the story of technology.
For style, "a backwards from when?" But since you asked Hanatsu (laughs)
BMX I think this is a significant environmental effect began.
When I started practicing my order but my friend was gone fucked.
Hydrant Anyway, then began to remember the steam roller from Hydrant leads backwards.
Practice and Soreto Furontosukueka.
And then in vogue was fascinated by the hitchhiker, hitchhiker from practicing Bakkuwazusuchimurora ... everything is ok.
The introductory model practice was no hitch that I had arrived in the crank sprockets are great big idiot.
I have taught you the basics and if the environment was a senior rider who was out of the gate it was a different style might be.
Summer high school senior.
I tried it out and get myself in the tournament in Chiba Chuo senior rider Komazawa et al.
"Komazawa party"
I feel that the time had been held about twice a year.
Moreover, Japanese number game X Core-X that had been entered, so it took a lot of riders eligible to participate.
☆ my name was in fifth place in Novice 20 Entries
At the time backhitch separately.
Furontosukueka Bakkuwazueruku issued a disconnect from.
I was very happy.
I feel that as motivation to get quite so heightened.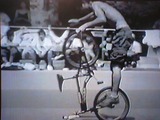 2002 season.
From high school are now adults.
KOG entry from this year.
At that time it was four years KOG.
When we get the rankings four times, had three races worth of points in the aggregate surpassed the worst results.
My
Game 4 was won 15th place Expert Novice Novice Game 3 Game 2 4th 5th Novice first round.
Abolished until 2001, since I was out of this annual ranking novice.
Why do not with the No. 1 ranking calculation (laughs)
The won climbed on the podium together Novice Mr. Shi was the way POP and Itani masa.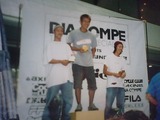 Information BMXJAM scene these days I was able to see the magazine.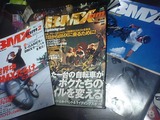 Then dig-it also saw a real information was coming from Digijin (laughs)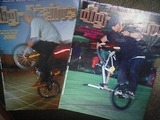 The relationship between the main video so the video did not present for the spread of Internet video.
Manifest is still the most popular at the time!
I feel the book is released in about two months.
Contests, Interviews, How To video was great and everything was packed.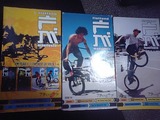 Manifest what you feel young (laughs)
This time there was a skill they want to feel part of the professional Kogi.
I feel the overall was Rongurutin.
Flatland skills revolutionized the soup Jammer Mr. Weaving doing this year.
Experts, and promoted to his final round and went on to become class-conscious professionals.
Continue.
---
スタイルについて "いつからバックワーズなの?"と聞かれたりしますが はなっからです(笑)
これはBMXを始めた環境が大きく作用したんだと思います。
自分が始めた時には友達しか居なかったので 練習の順序はメチャクチャ。
とりあえずハイドラントまでは覚えて 次に着手したのは ハイドラントから繋がるバックワーズのスチームローラー。
それとフロントスクエーカ等を練習。
そして,当時流行っていたヒッチハイカーに憧れて,バックワーズスチームローラーからヒッチハイカーを練習して…という流れ。
入門モデルには馬鹿デカいスプロケが着いていたので ノークランクにしてヒッチの練習をしました。
始めてすぐに先輩ライダーが居た環境だったとしたら 基礎から教わったりして今とは 違うスタイルになってたかもしれません。
高校3年の夏。
千葉中央の先輩ライダーらが駒沢の大会に出るとの事で自分も出てみました。
"駒沢宴会"
当時は1年に2回くらい開催されていた気がします。
さらに日本番Xゲームの Core-Xの参加資格もかかっていたので 大勢のプロライダーが参戦していました。
自分はノービスにエントリーし 20名中5位入賞をしました☆
その当時はバックヒッチ単品。
フロントスクエーカから抜いてバックワーズエルク
を出しました。
とても嬉しかったです。
それでモチベーションが高まり 結構乗るようになった気がします。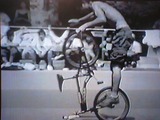 翌2002年。
高校生から社会人になりました。
この年からKOGにエントリー。
当時は年4回だったKOG。
4回行いランキングを出す際は、最も悪かった結果を抜いた3戦分のポイントで集計していました。
自分は
第1戦 ノービス5位
第2戦 ノービス4位
第3戦 ノービス優勝
第4戦 エキスパート15位
でした。
2001年まではノービスも年間ランキングを出していたのですが この年から廃止。
ランキング計算して付けてみたら1位でした(笑)
ちなみにノービス優勝時に 表彰台に一緒に登ったのは POPと井谷マサシくんでした。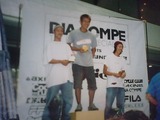 この頃シーンの情報は BMXJAMという雑誌で見る事ができました。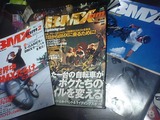 あとはdig-itから発信されていた ディギジンも リアルな情報が見れました(笑)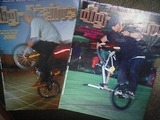 映像関係では 現在の用にインターネット動画が普及していなかったので ビデオがメイン。
当時の一番人気はやはりマニュフェスト!!
約2ヶ月に1本の感覚でリリースされていました。
コンテスト、インタビュー、How Toなど 全てが詰まっていた素晴らしいビデオでした。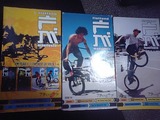 マニュフェストは青春って感じがします(笑)
この頃の技は プロの一部で コギをする人が居る感じでした。
全体的にロングルーティンだった気もします。
この年にヤンマーさんが ウェイビングをやりだして フラットランドの技に革新をもたらしました。
自分は最終戦からエキスパートに昇格して,プロクラスを意識するようになっていきました。
続く。