This is a computer-based translation of the original text:
August 19 Watakushi with BMX now 10-year history today.
You Hana and 10 years as a long short.
I write a lot of this milestone.
- How did I first started
When local high school friend started BMX, How did it but I saw the video.
I figure people on board fresh start I got to see places I was riding my friends even before the appeal is felt that (laughs)
But the video is shit.
People will know I know the video was fortee8 included images of the video series of all genres.
The issue was a special flat-KOG.
FFC was maybe 99 years is the venue KOG.
I was moved to a cool flat anyway.
I guess I thought I think I must have been popular with this (laughs)
In the summer of the first two bytes of high school and then buy a BMX.
Now get a good grade in a low introductory model,
At that time, "a low grade is not good" or "high-grade" was selected 2.
Dyno GT model that my brother's brand of cheap introductory "Zone" buy.
And for the flat and 88 Peg (ARES) began buying the handle ride.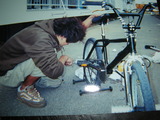 The start was with a friend
"BMX Manual Trick"
Read while I practiced.
In addition to the "Quarterly Storm" is also a BMX extreme sports magazine, so I had read plenty of articles listed.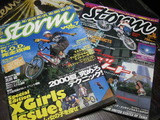 The first time was in his first Japanese X's and Mr Uno Yousuke Itou Takashi TOP10 games into the record, was taken up.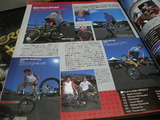 Three were held in the spring went to see high KOG.
Naa, where they moved very intense ride every one of the only professional magazine never seen before.
ARES KOG at this time is not just Alex who moved to Japan and they are dangerously Geki.
Morisaki's final of the last routine in the KOG still think my best routine.
After the photo was taken from them, and Mr. Uno was a fan (laughs)
Taking pictures of me ※ Chinami is Mr. Shinde (laughs)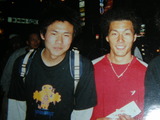 Just look at the tension rises KOG.
There are good local riders from the central park near Ichihara Chiba local Then I go for now then never try to treat my own.
Sako's got to know it was there when the local center in Chiba this fact (laughs)
At first, people were talking about it's worth it Bibitta skin Ikatsuku It was fucked.
Since I was past the working skills (laughs)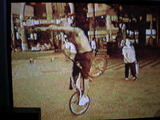 Jam training experience for the first time I attended a local Chiba Chuo out, went out to look like the advice of a senior tournament.
This time I changed the introductory model ARES of Ashura.
Continue.
---
10年とは長いような短いような。
この節目に色々書きたいと思います。
まず始めたキッカケですが~
高校の時に 地元の友達がBMXを始めて,ビデオを見せてもらったのがキッカケです。
その前に友達にも乗ってる所を見せてもらったんだけど 始めたての人が乗ってる姿は魅力には感じなかったのです(笑)
でもビデオはヤバかった。
知ってる人は知ってるであろう fortee8のビデオシリーズで 全ジャンルの映像が収録されてるビデオでした。
その号ではフラットはKOGの特集でした。
多分99年のFFCが会場だったKOGです。
とにかくフラットがカッコ良くて 感動した。
こんな事が出来たらさぞモテるんだろうなと思った(笑)
それからバイトを始めて 高校2年の夏にBMXを購入。
現在ではグレードの良い入門モデルが安価で手に入るが,
当時は "安いがグレードが良くない" か "高くてハイグレード"な2択でした。
自分はDynoというGTの弟ブランドの安価入門モデル"Zone"を購入。
それにフラット用のペグと88(ARES)のハンドルを購入し 乗り始めました。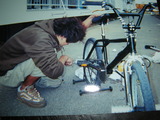 始めた当時は 友達と一緒に
"BMXトリックマニュアル"
を読んだりしながら練習しました。
他には"季刊Storm"というエクストリーム系スポーツ雑誌にも BMXの記事が豊富に載っていたので読んでいました。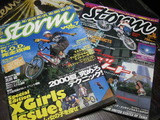 その頃行われたXゲームで 伊東高志さんと 宇野陽介さんが 日本人初参戦で初TOP10入りという記録を残し,取り上げられていました。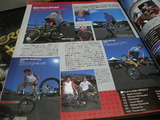 高3になった春に行われたKOGを見に行った。
そこでは 今まで雑誌でしか見た事がなかったプロの面々が激しく乗っていて とても感動したなぁ。
この時のKOGにはARESに移籍したばかりの Alexが来日していて激ヤバでした。
森崎さんの 決勝ラストのルーティンは 今でも自分の中でのKOGベスト ルーティンだと思います。
終了後には ファンだった宇野さんと写真を撮ってもらったりした(笑)
※ちなみ写真を撮影してくれたのは新出さんです(笑)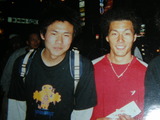 KOGを見て テンションはあがるばかり。
そんな時に地元の市原市から ほど近い千葉市の中央公園で 上手いライダーがいるローカルがあり,意を決して 接してみて それから乗りに行くようになりました。
実はこの時に千葉中央ローカルに 酒匂さんが居て知り合いになりました(笑)
最初見た時はスキンだったし メチャクチャいかつくて ビビったが 話してみると良い人でした。
この頃から 跨ぎ技を取り組んでいました(笑)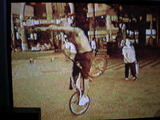 千葉中央ローカルに通い出した事によって 初めてジャム練を経験し,先輩の勧めで大会に出るようになっていきました。
この頃 入門モデルから ARESのアシュラに乗り換えました。
続く。