This is a computer-based translation of the original text:
Today is the opening Saremoni baseball tournament was held at the local BMX Ichihara we have do the show.
This baseball tournament, 62 teams from Chiba Prefecture, and how South Korea was the major thing that all 64 teams participating in each team from Taiwan.
Face of the show's hemp Narimasu 葵 Takahashi Akihiko Nakashima Kazu-kun
Done by.
Doing things in front of the space show at home base, 1.1mm thick and covered with Konpane I received the.
I was worried about was on the artificial turf surface, ☆ It's been a pretty easy ride
If the content was excited ~ ☆ grab hunks in mind and also by the inability to speak fluent Nakajima truly elementary
This is a happy-.
Thank Our stakeholders.
Last photo taken at face + Otchi papa's Aoi-kun.
During the picture show up so we get 撮Renakatta.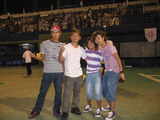 ---
この野球大会,千葉県から62チーム,そしてなんと 韓国,台湾から各1チーム参加し 全64チームで 行われる大規模な物でした。
ショーのメンツは
中島和麻さん
増成葵くん
高橋明彦
でやりました。
ホームベースの手前スペースでショーを行うとの事で,厚さ1.1mmのコンパネを敷き詰めて頂きました。
人工芝の上だったので路面が心配でしたが,結構乗りやすくて良かったです☆
内容の方は~さすが小学生という事で 中島さんのうまい喋りもあり ガッチリと心を掴んで 盛り上がっていました☆
これは嬉しかったな~。
関係者の皆さまありがとうございました。
最後にメンツ+葵くんのパパ オッチさんで記念撮影。
ショー最中の写真は撮れなかったので手に入ったらアップします。