This is a computer-based translation of the original text:
September 19 is now quite late, I went to the American festival was held in Yokosuka.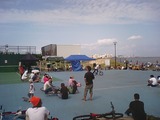 Arrive in Yokosuka in less than two hours drive from home Surprisingly (near poor than you Matsudo).
I was pretty good face gathering.
The system could not open their classes to go to the final six were hopeless again.
(I was happy to be surprisingly stable grasping but did Nozumanyuaru)
Why did you see # 7 Results!
Three of the judges, because judges are usually one or ...
Generally appealing to me is bad (laughs)
Place finish in Novice 2 Matsudo local Aoi-kun.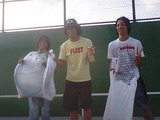 Mamoru-kun recently acquired a Daburudikeido. I look forward to the future.
The victory opened the original.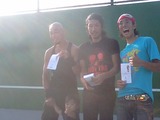 Hey expected.
Or have something to show to Utchi then had a lot fun jam.
Since this jam, KOG I have to practice for the practice routine is something easy to get tired, will hand out new tricks after all.
Today, I uploaded that into lately 撮Reta Whiplash system.
The current situation looks like now.
I 煮詰Metai more
But tomorrow will focus on the practice KOG.
KOG is from this time I'm looking forward to that man first came
KOG I look forward to the day before and after the production of a ride.
---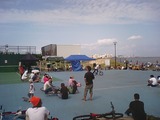 意外にも家から車で2時間かからずに横須賀に到着(下手したら松戸より近い)。
結構良いメンツが集まってました。
オープンクラスは 6名が決勝に行けるシステムでしたが 自分はまたもダメダメでした。
(だが掴みにやったノーズマニュアルが意外に安定してて嬉しかった)
リザルト見たらなぜか7位でした!!
3名ジャッジ中、1名が一般ジャッジだからかな…
でもおれ一般ウケ悪いしな(笑)
ノービスでは松戸ローカルの葵くんが2位入賞。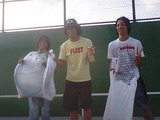 最近ダブルディケイドを習得した葵くん。これからが楽しみです。
オープンでは元が優勝。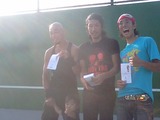 さすがっす。
その後にウッチーさんのショーがあったりなんかして、色々楽しいジャムでした。
このジャム以降、KOGに向けて練習してますが、ルーティン練習はなんか飽きやすく、結局新しい技に手を出してしまいます。
今日は最近ハマっているウィップラッシュ系を撮れたのでアップしました。
とりあえずこんな感じが現状。
もっと煮詰めたいなぁ
でも明日からはKOGに絞って練習します。
今回のKOGはあの男が初来日するから楽しみだなぁ
KOG本番より前後日に乗るのが楽しみです。