This is a computer-based translation of the original text:
July 4 I went to the jam was held at Matsudo bonito.
Choi after Nakajima from around 9 am and start riding 石嶋 kun.
The first feeling of relief was also getting worried about the rain had cleared.
It thinks too much too hot - sunny.
Mr. Nakajima was the heat and meet my fat (laughs)
Mr. H. while doing so, appeared Miyukingu's recently moved from Osaka to Tokyo Shibuya hard talk.
Hara and Mr. Cheki, Aoi-kun, Mr. Hatakeyama, Mr. Eye, appeared one after another and Nari-kun.
Whole bunch ride until 14, go to the park bonito party started!
I bought a bonito-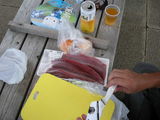 Nakajima-san
Judge judge!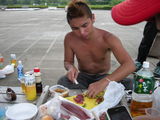 Scorch scorch!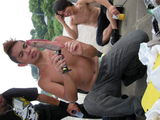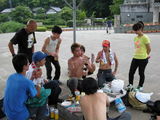 Nakajima him eat it himself, and the Kanto-Wellcome Memorial in Miyukingu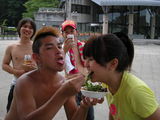 Oh well - it is inspired by lanterns reluctantly we made do.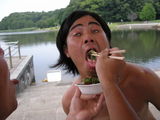 Everyone 喰Raimashita ー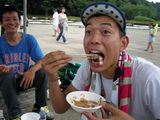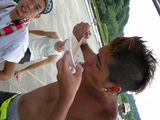 Mattaritaimu like that.
Crawfish crawfish in the creek looking at things that catch the shooting creatures are drawn to the camera reluctantly chin recently.
Hunter could not take my crayfish challenged with bare hands, but ...
Everyone started doing chin-up and why I came back (laughs)
A rare form of suspension ☆ Hara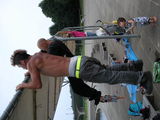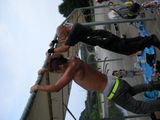 Bonito parties end like that. Shugart says, just before the confluence and termination Jinyo.
Usual pose!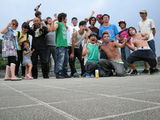 The rain was just ending 降Ri出Shi will begin the ride from 2 to 17 hours.
And spent the game in technique and shelter while playing in a small space.
The next collaboration is expected to judge Mr. Nakajima, a dream of the lantern fish astringent!
---
9時チョイ過ぎくらいから中島さん、石嶋くんと ライディング開始。
最初は雨の心配もあったが 晴れてきて一安心。
と思いきや晴れすぎで 暑過ぎ~。
デブの 自分と中島さんには応える暑さでした(笑)
そうしている間に 笠原さん、渋ちんと 最近大阪から東京に引っ越してきた ミユキングさんも登場。
そして原さん、チェキさん、葵くん、畠山さん、アイくん、ナリくん と続々登場。
14時までガッツリ乗って、公園に移動してカツオパーティー開始!!
買ってきたカツオを~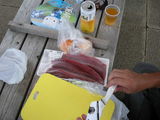 中島さんが~
さばくさばく!!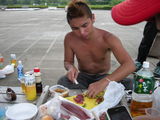 炙る炙る!!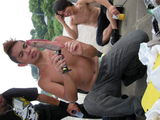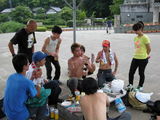 そして 関東ウェルカム記念で ミユキングに 中島さん自ら 食べさせてあげて~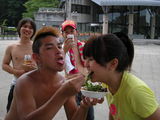 それに触発されて 渋ちんも あ~んしてもらい。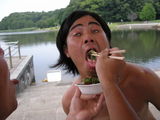 みんな喰らいましたー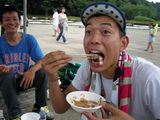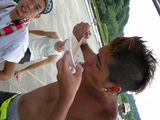 そんな感じでマッタリタイム。
最近カメラにハマっている渋ちんが
生き物を撮りたいという事でザリガニが釣れる小川で ザリガニ探し。
ザリガニハンターの自分は素手でチャレンジしたけど 取れませんでした…
戻ってみると何故かみんなで懸垂をやり始めた(笑)
原さんのレアな懸垂姿☆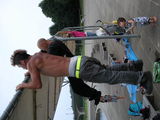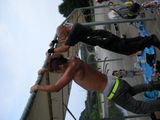 そんな感じでカツオパーティーも終了。終了ギリギリでシュガートさんとジーニョが合流。
お決まりの記念撮影!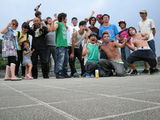 17時からライディング2部開始の予定でしたが ちょうど雨が降り出し終了。
雨宿りしながら狭いスペースで遊び技等で勝負したりして過ごしました。
次回は 渋ちんが釣った魚を中島さんがさばくという 夢のコラボに期待です!