This is a computer-based translation of the original text:
But into the rainy season, and we continue to ride a surprise every day.
Saturday and Sunday story.
Locally Saturday, Tomosan, Tsubasa kun and practiced.
After a little rain.
I have moved the location of this event it is usual practice Tsubasa kun was so pretty regular rainfall.
Whereas some have arrived!
Is this the heaven ...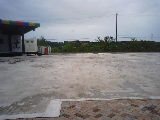 Certification in heaven.
I have rode a little dry when rain stopped.
True flat, slipping ratio (the Company) is easy to ride.
Make it revolve around Whiplash 14)!
Own record.
Dissolved in the evening.
☆ Thank birthday present from two
Go ride again!
And Sunday.
Matsudo went to ride.
On this day, Nakajima, Mr. Shinde, Mr. H., Mr. Genji, a member of the Swallow took cool.
Mr. Shinde is a direct BMX rumors they are asked to bring ridden well, but not fakie.
Difficult.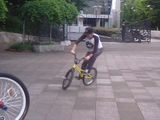 Nakajima had been self-deprecating system Debukyara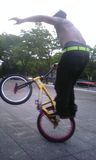 Mr. H.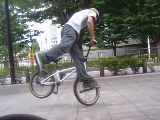 Mr. cool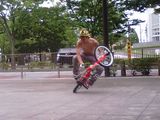 Cha ☆ I got a surprise birthday cake in a stylish grace in this day and Nakajima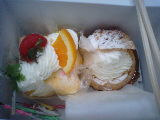 ☆ looks good but fucked like a mob of the North Star Nakajima
I rode like that until dusk.
Tone was quite satisfied with good people from riding.
Maybe I die soon, so I never had gotten to celebrate various people (laughs)
Thank the people who celebrate ☆
---
土日の話。
土曜日は地元で、ともさん、ツバサくんと練習しました。
が少ししたら雨。
結構本降りだったのでツバサくんが普段練習しているオススメの場所があるって事で移動。
着いて見てビックリ!!
ここは天国か…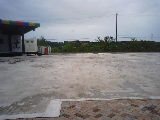 天国に認定。
少ししたら雨も止み乾いてきたので乗りました。
真平らで、滑らず(当社比)乗りやすかったです。
ウィップラッシュが14周回せてメイク)!!
自己記録更新。
夕暮れで解散。
2人から誕生日プレゼントいただきました☆
また乗りに行こう!!
そして日曜日。
松戸へ乗りに行きました。
この日は中島さん、新出さん、笠原さん、ゲンジくん、イケくんのメンバーで乗りました。
新出さんは噂のダイレクトドライブのBMXも持ってきていて乗らしてもらいましたが、フェイキーしかできず。
難しかったです。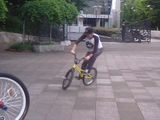 自虐系デブキャラになっていた中島さん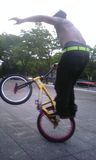 笠原さん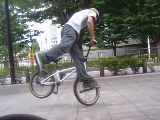 イケくん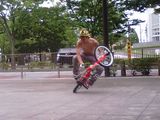 そしてこの日も中島さんの粋な計らいでサプライズ誕生ケーキをもらっちゃいました☆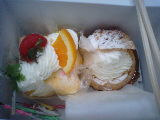 見た目は北斗の暴徒の様な中島さんですが メチャクチャ優しい☆
そんな感じで夕暮れまで乗りました。
ライディングの方もかなり調子良かったから大満足でした。
色んな人に祝って貰う事なんて 今まで無かったので 近々死ぬのかも(笑)
祝ってくれた方々 ありがとうございました☆