This is a computer-based translation of the original text:
I went to Yokohama on Sunday Duration:
Shin went to take the time and space.
The Shin-Yokohama Biginasukuru is made for this day, I went to school early before the start 乗Rubeku.
School started jamming with professional training from the school teacher Misawa.
The way to his grave, in the end, and Mr. Takeda Tcho Jam "which I first decided to switch."
Do you have fun riding.
I did not stay two to three hours of fun.
Hey I get to do a lot of school-
I wonder if I get together - in Chiba
And after the Shin-Yokohama
Cave
to.
The next day (21st) birthday, so you begging Hommage received a towel (laughs)
Combed went shopping and go to Yokohama you never bit.
So now 27 years old today.
We welcome gifts.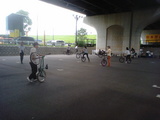 Read more
---
そして空き時間に 新横浜に乗りに行きました。
この日 新横浜では ビギナースクールが 行われる為、スクール開始前に乗るべく早めに行きました。
スクール講師の三沢プロと ジャム練してから スクール開始。
自分は邪魔にならぬように、端で、武田ッチョさんと "どちらが先にスイッチ決めるかジャム"
をやったりして 楽しく乗りました。
2~3時間しか滞在しませんでしたが 楽しかったです。
スクールやると沢山来るんだねぇ~
千葉でやったら集まるのかな~
新横浜を後にして
Cave
へ。
翌日(21日)が誕生日なので物乞いしたらHommageのタオルを頂きました(笑)
少しまったりしてから 横浜に買い物に行ったりとかして 帰りました。
というわけで本日27歳になりました。
プレゼントお待ちしています。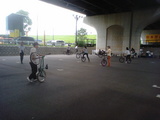 続きを読む