This is a computer-based translation of the original text:
Karin was riding in the Holy Land on Saturday after a long time.
Sounds familiar ...
Karin know how sacred the old blog, please read it.
Karin is the name of something sick Nde "Juno is" to rename.
Members,
Mr. Nagata. And
BMX recently started locally, took four members of Tomo-kun Tsubasa added.
Even before this week was going to like, or rough roads, and better work environment or 良Kattari own, had become estranged.
It took a long time unable to cope with road riding today + wind was so gratifying was not.
The!
BMX Tsubasa kun first week or so, full makeup Hydrant!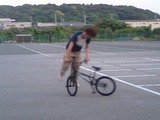 This, again, teary-eyed teacher (lol Sorry the rip-off)
It is quite happy.
Even though your winds, good jump, so we tried out once for fun rush.
Spread oneself after dissolution at dusk.
This is a somewhat nostalgic Naa repeat every thing that was so long
Long time enjoyed a holy place like that.
Naa hard rainy season next week huh
---
懐かしい響き…
聖地カリン知らない方は旧ブログでも読んでください。
カリンはなんか名前飽きたんで "がうら"に改名します。
メンバーは、
長田さん。と、
最近地元でBMXを始めた、トモさんとツバサくん
の4人のメンバーで乗りました。
以前は毎週の様に通っていたここも、路面の粗さや、自職場の方が環境が良かったりとかで、疎遠になっていました。
今日も久しぶりに乗ったので路面に対応できない+強風だったので 満足のいくライディングはできませんでした。
が!!
BMX初めて1週間くらいのツバサくんが、ハイドラントを完全メイク!!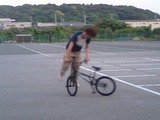 これにはもう、先生涙目(パクリでスイマセン笑)
結構嬉しかったです。
自分も強風ながらも、遊びで試していたジャンプラッシュが1回できたので良かったです。
夕暮れ後には少しダラダラとしゃべり解散。
これは昔毎週繰り返していた事だったのでなんだか懐かしかったなぁ
そんな感じで久々の聖地を楽しみました。
来週から梅雨入りかぁ つらいなぁ