This is a computer-based translation of the original text:
In addition to the holiday weekend last weekend was a three-day weekend because it was also closed Monday.
Saturday was errand to a local take lightly at home.
Next Sunday from noon
Pankudorankazu Eagle Claw
to.
Returning to claws of a hawk and go to Harajuku in the Pankukuru errands.
When finally been missing quite a Shigunechakyappu Get!!
After the claw of a hawk and around 3:30, and
On this day, just start from Sendagaya propelled by the inability to Komazawa riders riding in Chiba in Komazawa Park.
Name 9km too if I ran so many people to be lit: the main street near the forest and there, took me about an hour (laughs)
When I arrived - was exhausted.
The recently re-paved road, was the Most Komazawakouen ass rumor.
Park area will be established, the form was available only in the park riding.
The riders also felt a little flat hard part.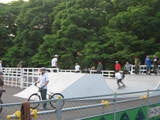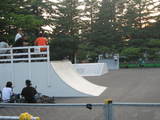 I want a lot will change between now seems not even yet established.
It can happen because the park will be built in Ichihara, it must consider various measures.
Souvenir picture like that.
Komazawa Park was eventually moved one hour one hour stay, so I am going to take the place of memories and made his first out of the competition.
And to participate in the morning or the next -
Nakajima NewTrick
And Monday.
Monday local newspaper magazine centerfold, "City Life" Interviewed by.
BMX activities such good about this growing Naa awareness and understanding of issues and I think when you write.
---
土曜日は家で用事があったため 地元で軽く乗り。
翌日曜日は 昼から
パンクドランカーズ鷹の爪
へ。
ちょっとした用事でパンククルーで原宿へ行ってから また鷹の爪へ帰還。
なかなかタイミングを逃していた シグネチャーキャップを遂にGet!!
そして3時半頃に鷹の爪を後にし,
ちょうどこの日,駒沢公園で 千葉ライダーがライディング中という事で 千駄ヶ谷から 駒沢まで自走開始。
ナメてたら 9km近くあり しかもラフォーレ等があるメインストリートを走ったので人が多すぎて,1時間くらいかかってしまった(笑)
着いた時にはヘトヘトでした~。
最近路面が舗装し直され,ヤバいと噂の駒沢公園でしたが。
パークエリアが新設され,パークの中でのみライディング可能という形でした。
ちょっとフラットライダーには 辛い部分も感じました。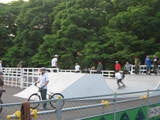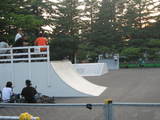 まだ設置間も無いようでこれから色々変わっていくみたいです。
市原市に建設予定のパークにも 起こりうる事なので,色々対策も考えなくてはなりません。
そんな感じで記念写真。
結局 移動1時間・滞在1時間の駒沢公園でしたが,自分が初めて出た大会が行われた思い出の地なので また乗りに行こうと思います。
次回は午前中から参加かな~
中島さんNewTrick
そして月曜日。
月曜は地元の新聞折り込み情報誌、"シティライフ"からインタビューを受けました。
こういう活動でBMXの認知度と理解が高まると良いなぁ
これについてはまた発行されたら書きたいと思います。