This is a computer-based translation of the original text:
Now talking about last weekend.
Last week the head Saturday about "I ride in Matsudo everyone" program begins,
I was looking forward to the weather was rainy afternoon.
It will be crushed in the long-awaited rain so boring, "Let's morning practice at all" suddenly changed plans.
Matsudo left for the day and 7 am screwed.
降Ri出Shi frustrated that the rain arrived at the same time,
Nakajima, police Mitsui, Takuya appeared!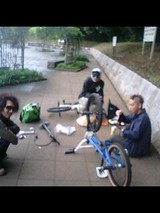 ☆ Temashita Nakajima hair is coming out like the matter of the Hokuto Zakokyara
Riding in the rain is not wet shade anyway.
Even dry track in about an hour in the main 乗Remashita safely.
Mr. H. at the source, Aoi-kun, Mr. Sasaki took to emerge from the morning's hot Hatakeyama.
It appears from Mr. 石嶋 afternoon.
We rode until evening falls Shimai the morning to ride on the alert for rain in the afternoon, tired hand (laughs)
---
先週頭くらいに土曜日は "みんなで松戸で乗ろうぜ" 計画が始まり,
楽しみにしていたら天気予報は昼から雨。
せっかくの予定が雨で潰されてはつまらないので,"みんなで朝練しようぜ"計画に急遽変更。
そして当日朝7時を目安に松戸へ出発。
着いたと同時に雨が降り出しイライラしていると,
中島さん,三井巡査,タクヤが登場!!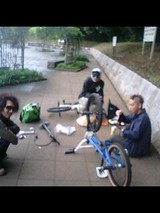 中島さんは北斗の件に出てくるザコキャラの様なヘアスタイルになってました☆
とりあえず 雨で濡れていない木陰でライディング。
1時間程度で 路面も乾き,無事メインで乗れました。
少しして笠原さん,元,葵くん,佐々木くん,畠山さん も登場し 午前中から 熱く乗りました。
午後になってから石嶋くんが登場。
午後からの雨を警戒して朝から乗ったのに 降らずに夕方まで 乗れてしまい,逆に疲れました(笑)