This is a computer-based translation of the original text:
I have free between, we closed the report time!
Using the Seishun 18 ticket five days off the Koo Bon Synopsis Twins last brother ※, looking for his bike in one hand (?) Comes into this week.
Around Osaka and Nagoya, 差Shi掛Katta trip to the second half.
DAY3
Finished the grave of the basin, from the day go to the NHK Osaka, and Fumi-kun joined!
While the country has in Osaka, where moved to wind up the tension to the NHK What was the first time.
Self-propelled running about 15 minutes, arriving at Osaka Castle Sakuranomiya askance.
The line has arrived already well-kun, riding feel, and chillin.
Both men hidden ball trick? I have I have! With practice and competitions Yappari expedition,
Gachita is routine practice to just the most complete, and I can not become usual practice,
It can be! Can see what look like the best rider.
At the head is fun even if you know. Fun than I expected this trip.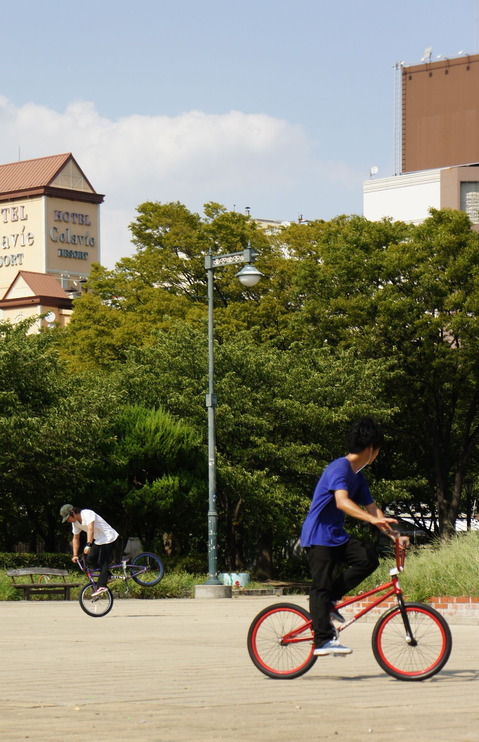 Later, Mr. ONI, Sugizo's face and powerhouse! !
Tension is rising and earnestly move contrary to the time.
This week is a long travel time, rounded up to the early emergency "Kobe" to! (DAY3 is so lengthy).
Kobe Motomachi arrived in about an hour from Sakuranomiya.
Look around the shop and kidnapping under the elevated station, and join the most local of my return home in Okayama!
The SPEACE ARK immediately.
But still hot evening in the city of Kobe, said Miki was conspicuously shine!
Mr. Miki is a condition Iirashiku recently, like me Buchikamashi in Nde KOG, is fun.
Go to the Meriken From there, riding lightly! The intention of
Gattsuri had aboard.
Kenshiro was also a rumor I look, good good.
About 2 hours of work in Kobe, but we are going, "Okayama"!
Speaking of Okayama Momotaro. I have seen repeatedly this week with a trip in Okayama Momotaro.
Momotaro is sure to increase the party in the middle of the journey, the party I Saino increased.
Saino character to the dog. Reason: because I often open mouth. Who ran the car so well.
Such delusions will leave me alone, arriving 22 hours in Okayama.
Less has been done Bon shops, and also wear to dinner or a mercenary ish Okayama,
Yes, but we had the dampers, the advent of tourism ambassador in Okayama Rongji. Adding to the party. The name of the article or Momotaro.
Over to the Okayama Kurashiki, Okayama are struggling every day DECADE! GOOD skills of Charity (now resting in only)
The navigation of his day exploring the city of Okayama. Tavern "such Dodo" and enjoy the food at the Class B Okayama,
Momotaro went off legions of the night to the town.
Today's move
Library chome Suminoe Tanimachi
Duration:
28
minutes transfer distance: Part
2: 9.8
km
Total: £
430
Motomachi over Sakuranomiya Duration:
44
minutes transit distance: Part
1: 33.8
km
Total: £
540
Continued DAY4
Koo
---
※前回のあらすじ
 ツインズ兄 コオがお盆休みの5日間を青春18きっぷを利用して、自転車片手に
 自分探し(?)の旅に出た。
 名古屋・大阪と周り、旅は後半戦へと差し掛かった。
DAY3
盆の墓参りを済ませ、昼から大阪のNHKに行き、ふみやくんと合流!
大阪に田舎がありながら、初のNHKにテンションが上がっていたもの強風のため場所移動。
自走で15分程度走り、大阪城を横目に桜ノ宮に到着。
すでにイッコーくんも到着していて、まったりとした感じでライディング。
2人とも隠し球?もってるもってる!やっぱり遠征や大会で練習すると、
完成度の高いルーティーンばかりを練習しがちたが、普段の練習となるとできないけど、
できそう!みたいなライダーが一番見たいものが見れる。
頭では分かっていても楽しいです。この旅想像以上に楽しいです。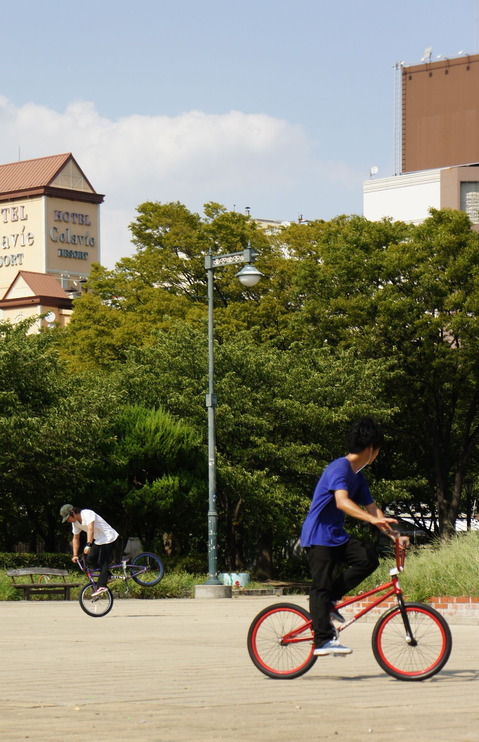 その後は、ONIくん、スギゾーさんとそうそうたるメンツ!!
上がりまくったテンションとは裏腹に移動の時間が・・・。
この旅は移動時間が長いので、早めに切り上げ、いざ「神戸」へ!(DAY3は長いですよー)
桜ノ宮から1時間ほどで神戸・元町に到着。
駅の高架下の店をさらっと見回して、岡山に帰省中のマイローカル サイノと合流!
さっそくSPEACE ARKに。
夕方でもまだまだ暑い神戸の町で、一際輝きを放っていたツミキ氏!
ツミキさんは、最近調子がいいらしく、KOGではぶちかましてくれるみたいなんで、楽しみです。
そこからメリケンパークに移動し、軽くライディング!のつもりが、
ガッツリ乗ってしまった。
うわさのケンシローも拝見できたので、よかったよかった。
神戸での活動時間2時間程度で、我らが向かうは「岡山」!
岡山と言えば桃太郎。岡山での旅を桃太郎の旅と重ねてみてみた。
桃太郎は旅の途中にパーティーを増やしてくが、僕のパーティーにはサイノが増えた。
キャラ的にサイノは犬。理由:口がよく開いてるので。車でよく走ってくれるので。
そんな妄想はほっといて、22時岡山到着。
お盆でやっているお店も少なく、目当ての岡山っぽい晩ご飯にもありつけないのかと、
弱音をはいていた僕らですが、岡山の観光大使エイキチの登場。パーティーに追加。桃太郎的にはキジかな。
倉敷から岡山に越し、DECADE岡山で日々奮闘している!チャリのスキルもGOOD(ただ今休養中)
彼のナビにより、岡山の街を観光。居酒屋「どどど」で岡山B級グルメを堪能し、
桃太郎軍団は夜の街へ消えていった。
本日の移動
住ノ江ー谷町四丁目
所要時間:
28
分 乗換:
2
回 距離:
9.8
km
合計:
430
円
桜ノ宮ー元町
所要時間:
44
分 乗換:
1
回 距離:
33.8
km
合計:
540
円
DAY4へ続く
コオ