This is a computer-based translation of the original text:
How have you been, December 18, Matsudo at the annual "I am this year! Recital!"
, Was held.
This collection is the number of participants has increased every year.
The purpose,
"1 year together, the results show"
A simple thing.
And now, Gunma, Tochigi, Tokyo, Kanagawa, Saitama, riders participated from Chiba,
Over a total of 30.
Be gathered about 40 riders after rounding.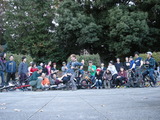 Thank you all the way! !
(I think I'm closer than many people use because it takes two hours too fast I mean)
Matsudo Musa was always painful, and then localize Miyukingu's, I think even now women riders who came to the pine tree! !
I could enjoy my Jamuru to many people.
Temasen fun shoot little too ...
For more information
JIMALOG
look at it (laughs)
After dusk, to launching a,
KOG trip
was also when I went to the okonomiyaki.
Taro begins with dark toast is local, had a great time.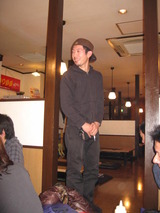 After meeting the primary, and Mr. Nakajima also joined, he had left a meeting at work next to a second party member left from the evening.
Was withdrawn at about 23 myself.
Thank you for gathering us all this time.
Matsudo get on with you next year! !
Speaking ※, this day, I have taken the hill was held Tsutomu Tamotsu
---
"今年の俺!!発表会!!"
が、開催されました。
年々参加人数が増しているこの集まりですが、
趣旨は、
"1年間の成果を見せ合おう"
という単純な物。
そして今回は、群馬、栃木、東京、神奈川、埼玉、千葉からライダーが参加し、
総勢30名オーバー。
四捨五入したら40名になるほどのライダーが集まりました。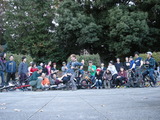 皆さん遠路はるばるありがとうございます!!
(ていうか俺も高速使っても2時間かかるので俺より近い人も多いかと思います)
いつもムサ苦しい松戸でしたが、ミユキングさんがローカル化してから、女性ライダーが来松してくれるようになったのも良いと思います!!
自分はいろんな人と楽しくジャムる事ができました。
楽しすぎてほとんど写真を撮ってません…
詳細は
JIMALOG
で見てね(笑)
夕暮れ後は、打ちあげへ、
KOGトリップ
の時にも行った お好み焼き屋にいきました。
ローカルである濃太郎の乾杯の挨拶で始まり、楽しい時間を過ごしました。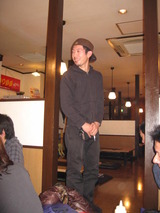 一次会終了後、残ったメンバーで二次会へ
夕方から仕事で一次会を抜けていた中島さんとも合流。
自分は23時頃に撤収しました。
今回集まってくださった皆さんありがとうございました。
また来年も松戸で乗りましょう!!
※そういえば、この日、全力坂の撮影が行われていましたよ